VIKTEC Top Best Timing Tool in 2020
2020-08-12
VIKTEC Timing Tool Set For Ford-----VT01350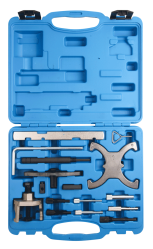 Kit consists of camshaft and flywheel locking tools, various timing pins plus a camshaft sprocket removal tool.
Also suitable for some Mazda vehicles.
VIKTEC Master Engine Timing Tool Kit For Toyota And Mitsubishi----VT01353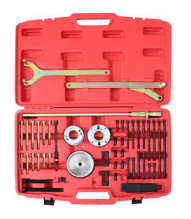 This master timing tool kit has been specifically compiled to give a comprehensive range of engine timing locking tools for Cam belts, chains and gears.
VIKTEC Engine Timing Tool Kit For Fiat / Alfa Romeo---VT01283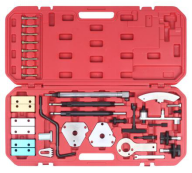 .The latest engine timing tool kit for Fiat and Alfa Romeo.
Twin cam engines: 1.2, 1.4, 1.6, 1.8 16V
.JTD diesel engine: 1.9D/TD, 1.9JTD, 2.4TD/JTD
Diesel Engines:
.Fiat Brava, Bravo, Marea/Weekend,Palio, Punto.
.Multipla, Doblo, Ulysse, Ducato, Sti
VIKTEC Engine Timing Locking Tool For Ford/Mazda----VT01284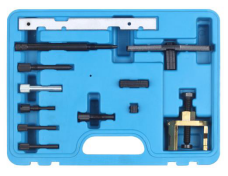 .Designed for pulling off the camshaft timing belt wheel and locking or positioning the engine output shafts such as the camshaft and the crankshaft.
.Required for changing the timing belt or for engine.
.Applicable for: Ford 1.8 D/Td/Tdci Diesel And 1.
VIKTEC Engine Timing Tool for Volvo T6 Engines---VT01713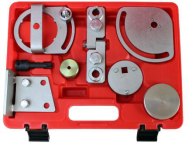 .Designed for checking and adjusting the engine timing.
.Fits on Volvo S80, XC90, XC60, XC70 3.0T, 3.2 with T6 engine as of 2007.
.Includes camshaft and crankshaft locking tool.
VIKTEC Engine Timing Tool Set For Citroen And Peugeot--VT01272
.Applicable: Citroen and Peugeot twin cam 16v petrol engine.
.Citroen: Xsara/picasso C4,C5,evasion/synergie, C8,jumpy/dispatch.
.Peugeot: 206,307,406/coupe,607,806,807,expert.