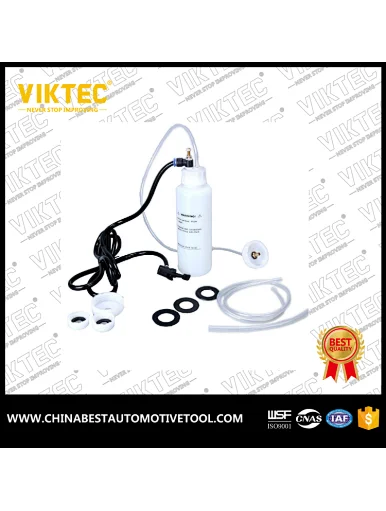 VIKTEC Universal Car Brake System Fluid Bleeder Kit Hydraulic Clutch Oil Emptying Tool
Universal Car Brake System Fluid Bleeder Kit Hydraulic Clutch Oil Emptying Tool
Do not exceed 20PSI (1.4Bar)
Pressure test connections before filling with fluid
Features:
This is an automatic bleeder kit that involves three simple steps for single handed brake and clutch bleeding.
It sets the standard for affordable brake and clutch bleeding systems.
Using air pressure from a spare wheel it will effortlessly bleed hydraulic systems. 
There are a number of adaptors available to fit most vehicles with screw cap reservoirs, single-handed operation effortlessly bleeds any hydraulic system.

3 simple steps
Automatic system using air from spare tyre
Can be done by one person