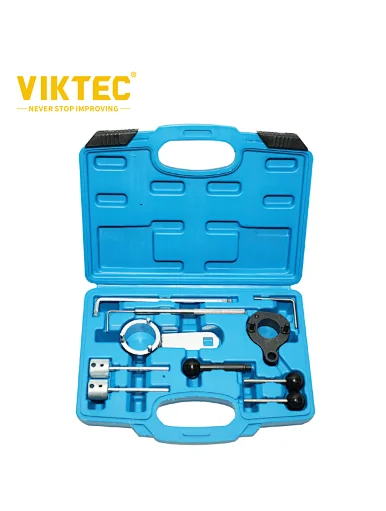 VIKTEC Timing Tool Set - VAG Diesel
Timing Tool Set - VAG Diesel
Engines : 1.4TDI CR | 1.6TDI CR | 1.6TDI CR GreenLine | 1.6TDI CR Blue Motion | 1.6TDI CR Ecomotive : 2.0TDI CR | 2.0 RS TDI CR | 2.0TDI CR Ultra Engine Codes : CKFB | CKFC | CLHA | CLHB | CNHA | CNHC | CRBC | CRBD | CRFA | CRFC | CRKA | CRKBm | CRLB | CRLC | CRMB | CRVA | CRVC | CSUA | CSUB | CUNA | CUPA | CUTA OEM : T10490 | T10051 | T10060A | T10264
For 1.6 - 2.0 TDi CR Engines from 2012 onwards.
Cambelt Tensioner Locking Tool 2.5 mm
Ball-end Hex Key 6 mm
Hex Key 8 mm
2 Fuel Pump Locking and Camshaft Alignment Pins
Auxiliary Drive Tensioner Pin
Camshaft / Crankshaft Timing Pin
Crankshaft Timing Tool and Locking Pin
Sprocket Holding Tool for High Pressure Fuel Pump.
A comprehensive kit for removal and fitting of the camshaft drive belt on the popular 1.6 and 2.0 VAG TDi CR diesel engines found across the VAG ranges from 2012 onwards. The engines covered utilise a belt with transfer gears in the head. This kit includes the pins required for timing the camshafts in the head.
VW : Golf - SV/Sportsvan / VII / VII Estate / VII Wagon | Polo
SEAT : Leon / ST
AUDI : A3 / Cabrio / Saloon / Sedan / Sportback
A4 / Allroad / Quattro
A5 Coupe / Cabriolet / Sportback
A6 Q5 / TT
SKODA : Octavia III
Engines : 1.4TDI CR | 1.6TDI CR | 1.6TDI CR GreenLine | 1.6TDI CR Blue Motion | 1.6TDI CR
Ecomotive : 2.0TDI CR | 2.0 RS TDI CR | 2.0TDI CR Ultra
Engine Codes : CKFB | CKFC | CLHA | CLHB | CNHA | CNHC | CRBC | CRBD | CRFA | CRFC | CRKA | CRKBm | CRLB | CRLC | CRMB | CRVA | CRVC | CSUA | CSUB | CUNA | CUPA | CUTA
OEM : T10490 | T10051 | T10060A | T10264