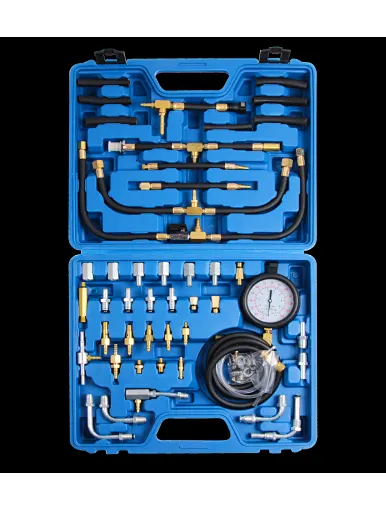 VIKTEC Multiple-Function Oil Combustion Pressure Meter
.This highly comprehensive Oil Combustion Pressure Meter can be used for Japanese, American and European vehicles. The purpose of this toolkit is to accurately and quickly diagnose intake issues.
.Includes all hose and adapters to work on most import and domestic cars.
.Each piece has been precision made by tool manufacturers who have trade experience and who have been making tools to a high quality standard for over 30 decades.
.This set comes with the 2 different types of screw on Schrader valves so will fit all German and European cars. 
.Ideal for the busy Mechanics Garage or workshop.
.Made by professionals for professionals.
.Comprehensive kit of hoses, adaptors and fittings for testing the pressure on modern petrol fuel injection systems.
.Fitted with quick couplings and safety valve to prevent inadvertent discharge of fuel under pressure.