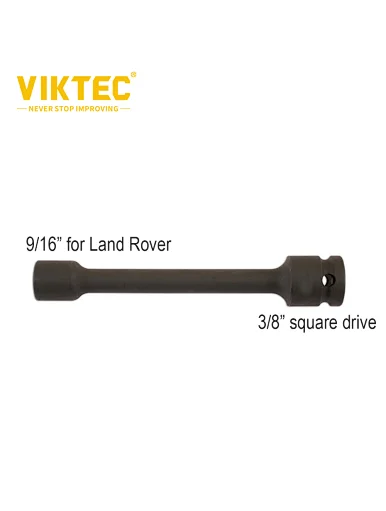 VIKTEC Land Rover Propshaft Nut & Bolt Tool 3/8" Square Driver 9/16"
Product Feature
Manufactured from Chrome Molybdenum and specially designed for propshaft bolts on Land Rovers.
Slim-wall socket design with slim extension enables it to fit perfectly between the yokes of the propshaft.
Suitable for most Land Rover Defenders, Discoverys, and Range Rovers.
- Manufactured from Chrome Molybdenum and specially designed for propshaft bolts on Land Rovers.
- Slim wall socket design with slim extension enables it to fit perfectly between the yokes of the propshaft.
- Length: 150mm.
- Drive: 3/8 Sq.
- Socket Size: 9/16:
- Outer Socket Diameter: dia 20mm.
- Suitable for most Land Rover Defenders, Discoverys and Range Rovers.
- Net Weight: 0.2kg