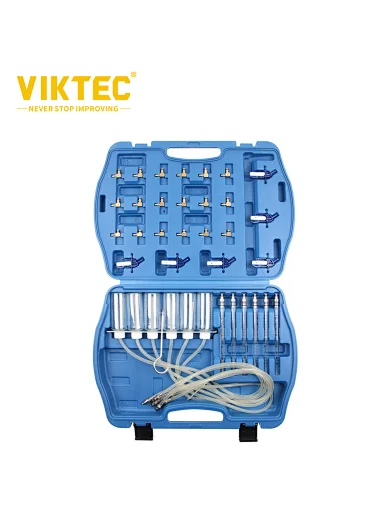 VIKTEC Flow Meter Common Rail Set With Injector Adapters
Flow Meter Common Rail Set With Injector Adapters
Designed to measure return fuel flow on diesel vehicles up to 6 cylinders fitted with common rail injection system.
Identifies worn, blocked or inoperative injectors quickly and easily.
Contains measurement tubes for short term tests and measurement bottles for long term, more accurate evaluation.
Master kit includes range of adaptors to suit Bosch, Delphi and Denso injectors for comprehensive coverage of common rail diesel vehicles.
Supplied in carry-case.
Designed to measure rapidly and effectively the amount of fuel that every injector returns to the deposit tank,so that you will know if any injector is damaged.
Direct measurement of return flow of the injector.
Measurement of return flow using external flow meter.
Possibility of simultaneous measurement of up to 6 injectors.
Box for transprotation and storage is included.
Set included 18pcs injector adaptors:apply for Bosh.Siemens.Denso and Delphi injector.
Supplied in carry-case.