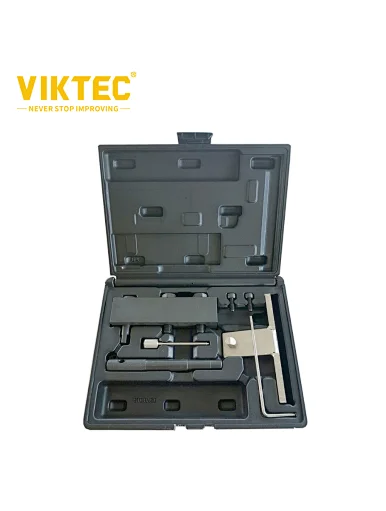 VIKTEC Engine Timing Tool Set Vauxhall 1.6 CDTi
Timing Tool Set to lock down the 1.6L CDTi engine from Opel/Vauxhall as on Astra J, Meriva B, Mokka, Zafira C and Tourer (CDTi, EcoFlex CDTi)
In 2013 Opel/Vauxhall launched a new 1.6 EcoFlex diesel engine across their range.
The new engine design has also meant the need for a new engine timing kit.
This kit provides the essential tools required to set and time the main engine components when replacing the camshaft drive chain.
Content:
Auxiliary Drive Belt Tensioner Locking Pin
Camshaft Alignment Setting Pin
Crankshaft Alignment Tool + Screws
Tensioner Locking Pin
Camshaft Sprocket Holding Tool + Screws
(OEM: KM 6130, KM 6349, EN 6349, EN 6130, EN 51143, EN 51140, EN 51188, EN 50513)
Applications:
Opel Astra J (2013 onwards)
Opel Meriva B (2013 onwards)
Opel Mokka (2013 onwards)
Opel Zafira C (2013 onwards)
Opel Tourer (2013 onwards)
Engine Codes:
LVL/B16DTH
LVM/B16DTL
LVL/B16DTN
LVM/B16DTC
LWQ/B16DTE
LVL/B16DTJ