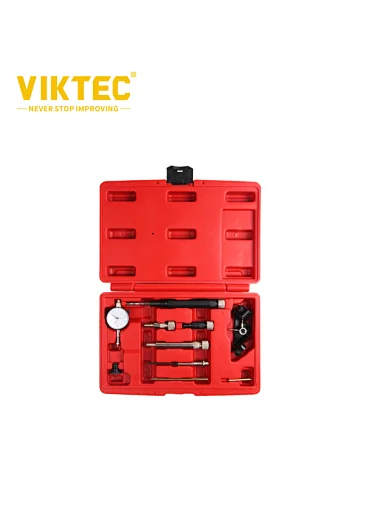 VIKTEC Diesel Fuel Pump Timing Set
Diesel Fuel Pump Timing Set
Special designed to reset the timing position on diesel engine with fuel pump. .Applicable: Alfa Romeo, Audi, BMW, Fiat, Ford, Isuzu, Iveco, Lancia, Land Rover, Mazda, Mitsubishi, Nissan, Renault, Rover, and VW. Etc.
Timing Indicator Set for the Bosch Diesel Injection Pump.
The Indicator has an 8mm shank (8mm crucial for fitting into most popular holders) Accurate to .01mm.
The right tool for timing Bosch VE injection pumps on VW and Audi diesels.
Includes Metric Dial Indicator, plus holder, plus extension pins (2).
Includes M8, M10, and M12 adapters.
For use on Bosch diesel injection systems especially on VW and Audi engines: DE, MD, ME, MF, 1V, 1Z, AAB, AAZ, ACV, AHU, ALH, AWP, AWV, CS, CY.
These engines can also be found in diesels used in Industrial applications such as farm, light industrial, etc.
The Bosch diesel pumps can also be found on Volvo Marine diesel (Penta) and BMW diesel engines found in pre-1993 BMW diesel vehicles.
The Holder screws into the back of the injection pump, giving an accurate reading necessary for setting the correct pump timing.
This tool set makes the job of precisely setting of the Bosch diesel fuel injection pump easy.