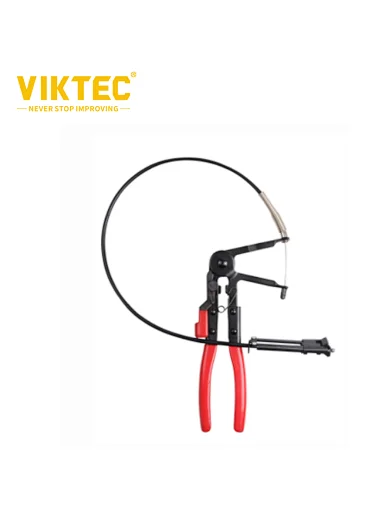 VIKTEC Cable Hose Clamp Pliers
Cable Hose Clamp Pliers
For replacement of flue, oil and water hose
Special larger clamp designed for lower water hose clamp
Larger handle for easier removing the hard clamp
Convenient for working hidden areas and long distance
Hose clamp with flexible 630mm wire
Allows technician to access the flat-type hose clamps located in hard-to-reach areas.
Pliers have locking mechanism to hold clamp in the open position, making removal and installation of clamp easier.
Heavy-duty long cable flexes to almost any position.
Pliers are spring loaded to the open position.
Long reach tool designed to get to awkwardly positioned tag type hose clips.
Flexible cable and compact head help operation in confined spaces.
Features ratchet action and vinyl dipped handles for comfort and close control.
Flexible Shaft Length: 630mm.