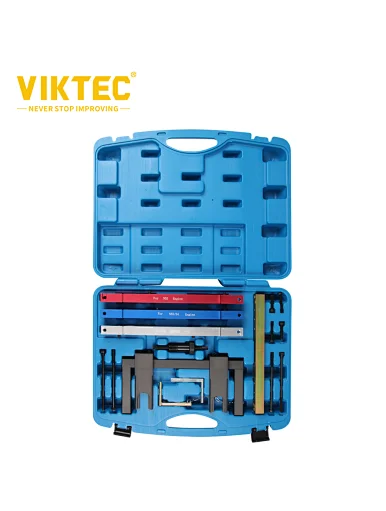 VIKTEC Engine Timing Tool Set for BMW N51 N52 N53 N54 N55
Product Feature
Applicable: BMW 6 cylinder.
Engines: N51, N52, N53, N54, N55.
Blue: N51/N52
White: N53/N54
Red: N55
.Applicable: BMW 6 cylinder. 
.Engines: N51, N52, N53, N54, N55.
Blue: N51/N52
White:N53/N54
Red: N55
Features:
SETTING AND LOCKING TOOL SET DESIGNED FOR A WIDE RANGE OF BMW 2.5 & 3.0 CHAIN DRIVE, SIX CYLINDER, TWIN CAMSHAFT PETROL ENGINES

DESIGNED FOR N51/N52/N52K VALVETRONIC AND N53/N54/N55 DIRECT INJECTION ENGINES

DESIGNED for LOCKING CAMSHAFT IN TOP DEAD CENTER POSITION WHEN CHECKING or CORRECTING CAM TIMING, REPLACING TIMING CHAIN, REPLACING CAMSHAFT for N51/N52/N53/N54.
INCLUDES: 
VANOS ALIGNMENT PLATE STDC LOCKING PIN CAM ALIGNMENT JIG CAM ALIGNMENT JIG 2 SETTING GAUGES
For 2006 and newer vehicles Series 1, 3 , 5, and 6 Models, (N52) 3.0L (Non-Turbo), (N54) 3.0L Twin Turbo engines
Compares to BMW tools #110300, #114280, #114290 and #118520. 
Installing and removal of camshaft/ variable camshaft timing unit. 
Checking and adjustment of timing.