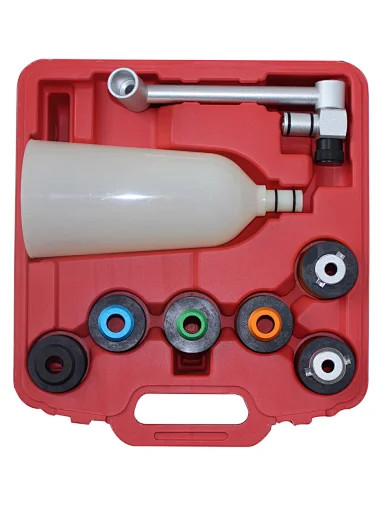 VIKTEC 8Pcs Oil Funnel & Adapter Set-Aluminium Version
8Pcs Oil Funnel & Adapter Set-Aluminium Version
.Allows for fast oil filling without spillage.
.Great for many late model vehicles with internal baffles.
.2 liter funnel fits adator for wide application range.
.Color-coded aluminium adapters for oil filler hole.
.Special angle extension with swivel feature for hard to reach places.
.Contents:
1pc 2L topping-up funnel.
1pc angle extension.
1pc adaptor w/bayonet adapter for audi,BMW, Dodge,Mercedes,Porsche,Volvo,VW.
1pc adapter w/bayonet adapter for Toyota and Lexus with 3.0L and 3.3L V6engines.
1pc M42X4.5 threaded adapter for Subaru.
1pc M37X3.0 threaded adapter for Toyota,Lexus,Scion, Pontiac.
1pc M35X4.0 threaded adapter for Mazda.
1pc M32x3.5 threaded adapter for Dodge,Honda,Acure,Nissan,Jaguar,Ford.