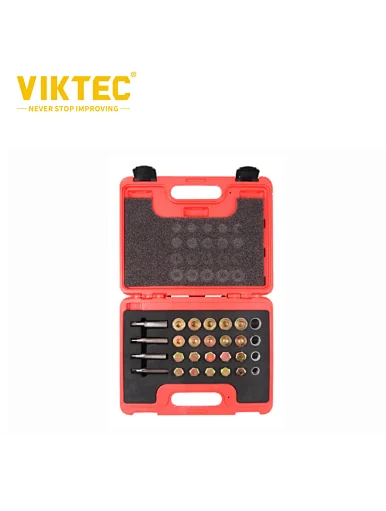 VIKTEC 64pc Oil Drain Thread Repair Kit
64pc Oil Drain Thread Repair Kit
This kit provides new enlarged thread and replacement drain plug screws. .For use when existing threads are damaged or worn away. .Renew the damaged oil drain thread. .Provide replacement of oil drain nut. .Manufactured from the highest quality steel. .Covers a wide range of vehicle applications.
Professional tool for commercial or occasional use.
Superb for repairing sump, gearbox and differential drain plug threads.
Used to tap the damaged thread slightly oversize, then fit a new drain plug and washer supplied.
Set is suitable for the most popular threads used on cars and light commercial vehicles.
Tap Sizes: M13, M15, M17, M20.
Supplied in storage case.