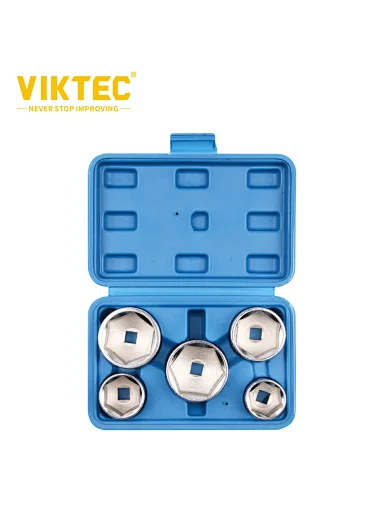 VIKTEC 5PCS Oil Filter Cap Wrench Set
Oil Filter Cap Wrench Set
Durable and powerful oil filter socket set, easy to use and save lots of power than regular oil filter socket wrench set
Size: 24, 27, 32, 36, 38mm .Suit for 3/8" DR
Provides multiple contact points to engage the housing cap securely for maximum removal torque

Special design to remove filters without damage to the filter housing.

Economical and practical, an indispensable tool for your car.

Lightweight design in compact size, strong grip, not easy to loose, easy and convenient to operate.

Made of high quality carbon steel material, anti-rust, practical and durable.

Size: 24, 27, 32, 36, 38mm

Suit for 3/8"DR.