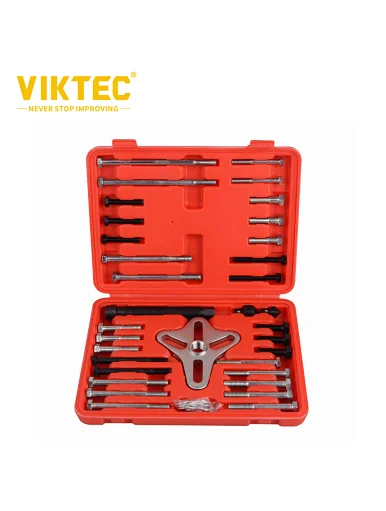 VIKTEC 46pc Harmonic Balancer Puller Set
Product Feature
Removes balancers, pulleys and gears with tapped holes.
A floating swivel prevents damage to the shaft end.
Four slots in the yoke allow for 2 or 3 hole application.
Tool bolts to balancer with centre.
For removal of harmonic balancers gears, pulleys & steering wheels.
This harmonic balance puller set is designed for removing harmonic balancers, gear pulleys, steering wheels and flywheels.
The four slots in the yoke allow for application using 2 or 3 holes.
The center screw is equipped with a floating swivel, which prevents damage to the shaft end.
Made of drop-forged and heat-treated steel, this toolset is very durable.

Content:
1pc 5″ Pressure screw 3/4″-16thread
3pc 1-1/2″ bolt 3/8″-24 thread
3pc 2″ bolt 3/8″-16 thread
2pc 4-1/2″ Bolt 3/8″-16thread
3pc 3-1/2″ Bolt 5/16″-18thread
2pc 2-1/2″ Bolt 1/4″-28thread
1pc steel yoke
2pc centering adapters
1pc flat shaft adapter
3pc 3″ bolt 3/8″-16thread
2pc 6″ bolt 5/16″-18thread
2pc 3"bolt 5/16"-24 thread (new version), or 3"bolt 3/8"-16 thread (old version)
3pc 45mm bolt M8 x 1.25mm
2pc 65mm bolt M8 x 1.25mm
2pc 90mm bolt M8 x 1.25mm
3pc 35mm bolt M10 x 1.5mm
5 x WASHERS-3 x 5/16″, 2 x 1/4″
6 x WASHERS 3 x 10mm , 3 x 8mm