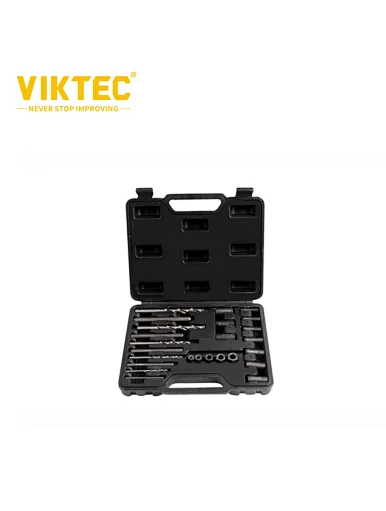 VIKTEC 25pc Screw Extractor / Drill And Guide Kit
25pc Screw Extractor / Drill And Guide Kit
This cleverly designed 25 piece screw extractor set from Force is the only style that doesn't expand the damaged screw as you're turning it.
The ingenious fluted design set consists of five sizes of extractor with corresponding drills and to make it even more fool proof the correct drill sizes are stamped on the corresponding extractors.
A range of guides to help centre your drill makes this the complete screw extractor set.
These are the ideal tool for removing broken off screws and studs in all situations and are supplied in a compact blow mould case.
25 Piece Set.
5 Sizes Range From 3/16"(5mm) - 9/16"(14mm).
Drill Size Is Stamped On Each Extractor.
Guides To Centre Drills.