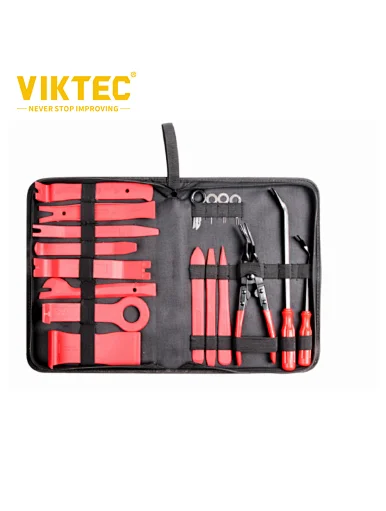 VIKTEC 19pc Trim Removal tool
This 19 Piece Car Trim, Body Moulding and Door Panel Trim Clip Removal Tool Set allows you to quickly and easily remove car body mouldings, door panels, upholstery clips and other parts without causing damage to them.
The 11 trim removal tools are manufactured from strong impact resistant nylon which is non-marking and non-scratching.
The interior clip removal tools allow you to easily remove interior trim upholstery panels from the inside of car doors.
Slotted tops to release trim clip fastenings
Fitted with large shaped handles for extra grip and comfort
Strong heavy duty heat treated construction with nicely finished powdered coated steel shafts
The Car Door Panel and Trim Clip Removal Pliers are designed for the quick removal of staples, clips, door panels, facia and trim supports etc. without damage. The jaws are designed to allow clip removal simply by squeezing the handles and the wide nose is designed to prevent breaking or tearing panels when undoing facings.
The kit also includes car stereo removal keys and terminal removal tools for easy removal of wires from terminal connectors.
Set Includes
11 Trim and Body Moulding Removal Tools
2 Clip removal tools
1 Clip removal pliers
2 Car audio removal keys
3 Terminal removal tools
1 Zipped Storage pouch