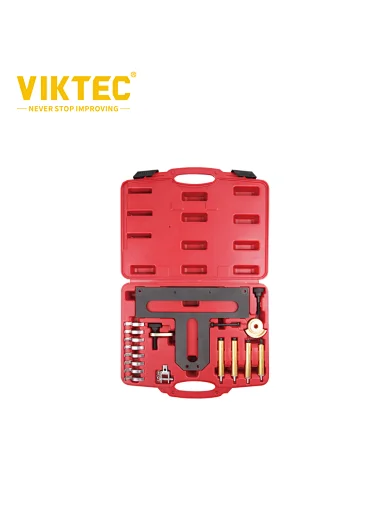 VIKTEC 18pc BMW N42, N46 Timing Tool Set
18pc BMW N42, N46 Timing Tool Set
For the removal and installation of camshafts, also dismantling and rebuilding camshaft carrier bracket on the Valvetronic assembly.
Essential for the safe dismantling-rebuilding of the carrier assembly.
Camshaft carrier bracker remover and installer timing tool kit.
Engine timing:Checking and adjustment.
Made by professionals for professionals.
Include
Intake&Exhaust Camshaft locking device with fixing screws.
Crankshaft Flywheel TDC Locking pin.
Applications
BMW E87 118i,120i N46 engine.
BMW E46 316i,318ti N42 engine.
BE90/E91 318i,320i,N46 engine.
BMW E85 Z4 2,OI-N46 engine.
Engine Codes
N42/N46
B18/B18A
B20/B20A/B20B
Specifications
Black phosphate finished steel.
Hardened and tempered for maximum duraility.
Galvanised steel.
Supplied in blow moulded case.