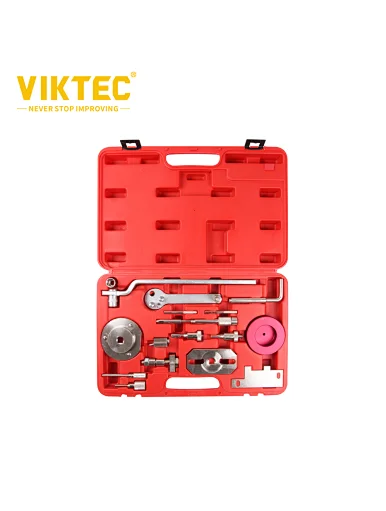 VIKTEC 17pc Diesel Engine Setting Locking Set
17pc Diesel Engine Setting Locking Set
Used for timing 2.2/2.3/3.0 belt and chain drive engines, including the later chain in head versions, usually found in light commercial vehicles.
Features a water sensor installation socket, crankshaft turning tool, timing cover centring plate, oil pump setting plate as well as camshaft and crankshaft locking tools.
These engines are also found in the Ford Transit.
Supplied in carry-case.

Applications:
Citroen: Relay/Jumper III (06-12)
Fiat: Ducato (02-13)
Iveco: Daily (03-10), Daily/EcoDaily (09-11)
Peugeot: Boxer III (06-12)

Engine Codes:
Citroen/Peugeot:
2.2D Hdi: 4HM, 4HM, 4HV
Fiat:
2.2D Multijet 100: 4HV
2.3D JTD: F1AE0481C
2.3D Multijet: F1AE0481D, F1AE0481N, F1AE3481E
3.0D Multijet: F1CE0481D, F1CE3481E, FCE13481M, F1CE3481N
Iveco:
2.3D: F1AE0481A, F1AE0481B, F1AE0481F, F1AE0481FA, F1AE0481G, F1AE0481GA, F1AE0481H, F1AE0481HA, F1AE0481R, F1AE0481RA, F1AE0481UA, F1AE0481VA
3.0D: F1CE0481A, F1CE0481B, F1CE0481F, F1CE0481H