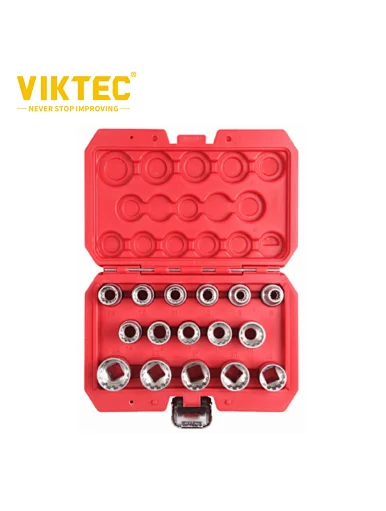 VIKTEC 16PCS 1/2"Dr. Gear Lock Socket Set
16PCS 1/2"Dr. Gear Lock Socket Set
This 12-corner socket set, including 16 different-sized drive sockets with knurled rings, is an essential set for a long life in daily garage, garden or workshop use!
Professionally heat treated chrome vanadium steel brings the set strength and durability for a long-term dependable service. Sizes are all stamped for easy identification. With all pieces well stored and sorted in a carrying case, it is easy to transport.
Delivery includes: 16 x 1/2"12-corner socket. Keep this 12-corner socket set in your workshop or garage!
Product Specifications:
16 Piece 12-corner socket set
Material: Heavy-duty chrome vanadium steel
Blue storage case: 33 x 11 x 4.5 cm (L x W x T)
Delivery includes:
16 x 1/2"12-corner socket (approx. 12.7 mm): 8 / 9 / 10 / 11 / 12 / 13 / 14 / 15 / 16 / 17 / 18 / 19 / 20 / 21 / 22 / 24 mm