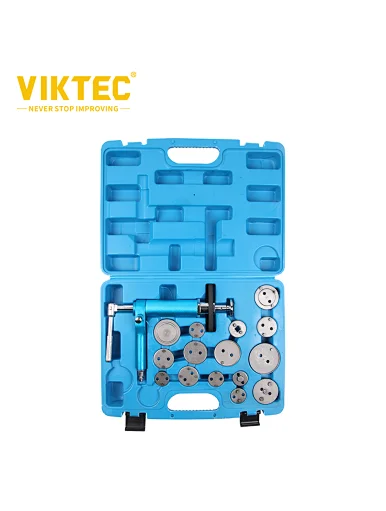 VIKTEC 16pc Air Brake Caliper Wind Back Tools
16pc Air Brake Caliper Wind Back Tools
1pc Air brake caliper tool
5 - 13/32"Adaptor(5) with 3/8"Dr. inner 4-pt.
0 - GM Motors
2 - Citroen XM,Xantia u.a.
3 - Alfa Romeo,Audi,Austin,BMW,Ford,Honda,Jaguar,Mercedes-Benz,Mitsubishi,Nissan,Rover,Toyota,VW
4 - Alfa Romeo 164 2,0,Ford,Mazada,Saab 9000,Subaru
6 - Nissan Primera,VW-Golf IV
7 - Audi 80,90,V8 +100,Ford Sierra ABS+Scorpio ab 85,Honda Prelude, Nissan Silvia 1.8 turbo,Rover 8000,Saab 9000,Subaru L+Z,VW-Golf +Passat
8 - GM Motors
9 - GM Motors
M - Ford
N - Saab,Honda
Z - Renault
E - Cefiro ,Maxima
G - Opel
K - Citrön C5

Direction:
1.Choose a suitable-sized adapter for the piston in the wheel cylinder, and fit it onto the magnetic tip of the tool. Connect the tool to a compressed air line and make sure that the pressure does not exceeds 8 bar (ca. 115 psi).
2.Press release button and rotate the lever to adjust the length of the push shaft.
3.Press operation button and rotate the lever to push the piston backward.
4.Press release button before disconnecting the compress air line.

Detailed picture of 16pc air brake caliper wind back tools(VT01190).