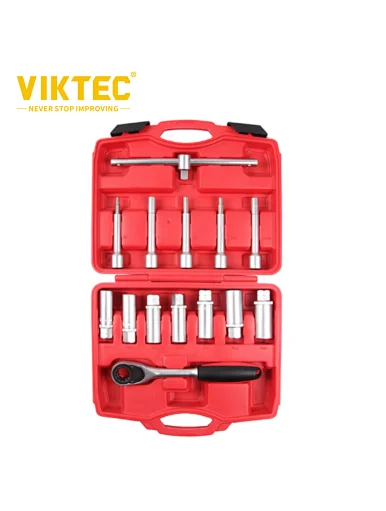 VIKTEC 14pc Shock Absorber Tool Kit BMW Vauxhall Audi VW
14pc Shock Absorber Tool Kit BMW Vauxhall Audi VW
Specifically designed for repairing and replacing shock absorbers.
Manufactured from Chrome Vanadium.
Contents:
7 x Go Thru' deep sockets: 16/17/18/19/21/22/24mm,
3 x 1/2"D Hex bits: 6mm/7mm/8mm,
1 x sliding T-bar 1/2"D,
2 x slot bit sockets 5 x 8mm, 6 x 8mm x 1/2"D.
1 x 21mm Hex Go Thru' ratchet .
6mm Hex and 8mm Hex used on Mercedes-Benz with 19mm socket.
8mm Hex for BMW combined with appropriate socket.
7mm for GM/Vauxhall combined with appropriate socket.
Slot bit socket combined with 17mm socket used on Volkswagen and Audi models.