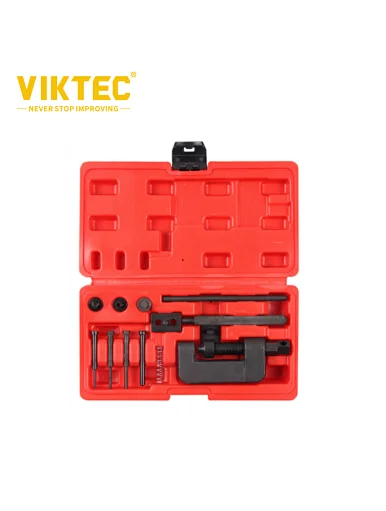 VIKTEC 13pc Chain Breaker And Riveting Tool Set
13pc Chain Breaker And Riveting Tool Set
Cap type filter wrenches, made from 7 and 16 gauge steel will withstand up to 115Nm (85lb.ft) of torque.
Designed to grip like sockets, thereby minimizing the possibility of crushing filters.
Electro-black oxide finish for rust protection.
Use with 3/8" or 1/2"Sq drive wrenches.
Supplied in blow mould case.
Breaks and rejoins most types of chain quickly and easily.
Suitable for most sizes of drive or cam chain from #35 to #630.
Supplied with a range of pins, dies and detailed instructions.
Contents: pins; 2.2, 2.9, 3.8mm, pin guide; 2.2 upper, 2.2mm lower, riveter pin, anvil; 3, 6mm, spring, press plate, lever, handle, chain press.

Application picture of chain breaker and riveting tool set (VT01420).
Viktec could offer different Breaker And Riveting Tool, motorcycle tools, motorcycle tool set, motorcycle repair tools, motorcycle tools special tools
Welcomes any OEM & ODM orders of Breaker And Riveting Tool, motorcycle tools, motorcycle tool set, motorcycle repair tools, motorcycle tools special tools
Waiting for your inquiries on Breaker And Riveting Tool, motorcycle tools, motorcycle tool set, motorcycle repair tools, motorcycle tools special tools