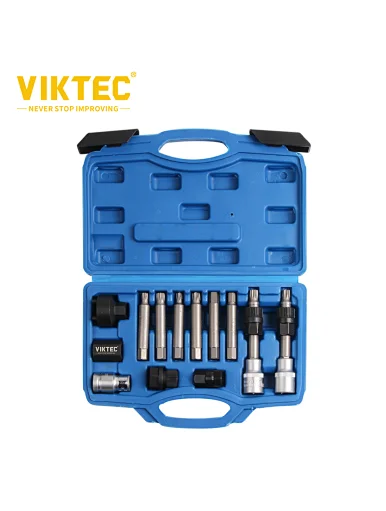 VIKTEC 13pc Alternator Freewheel Pulley Removal Set
Application: Freewheel pulley removal for Audi, for BMW, for Fiat, for Ford, for Mercedes, for Renault, for seats and for Porsche.
Permits easy removal of over running alternator pulley either on or off the vehicle.
Insert allows alternator shaft to be held while the pulley retainer is removed with the key nut.
Applications: Alfa Romeo, Audi, BMW, Citroen, Fiat, Mercedes, Mitsubishi, Renault, Seat, Skoda, Vauxhall/Opel, Volvo, VW.
Contents:
Combined socket bits: 1/2"sq drive, trx-star-t50-33tx113mm, spline-m10-33tx113mm, spline-m10-33tx113mm.
Spline adapters: 15mm x 33t, 22mm x 33t.
Hex adapter: 22 x 28mm.
Round adapter: 35mm-4 pin.
Bits: 10mm hex drive; trx-star-t40, t50, spline - m8, m10, hex - h8, h10.
Adapter: 1/2"sq drive x 10mm hex.