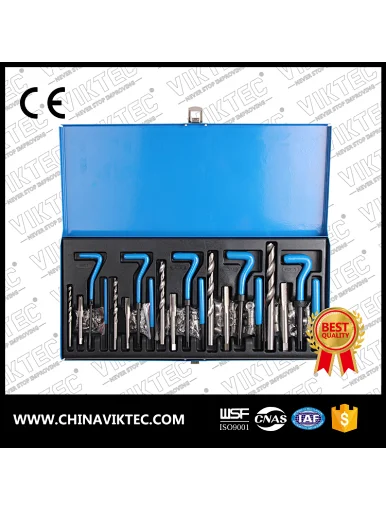 VIKTEC 131pcs Thread Repair Kit
131pcs Thread Repair Kit
Suitable for five common sizes of thread. .Creates a stronger internal thread in soft metals. .Ideal for repairing damaged or stripped internal threads. .Protects tapped threads against wear and damage. .Includes drill bits, thread taps, insert installation and lug breaking tools. .Supplied in metal storage case.
Include:
5pcs Installation Tools.
5pcs Break Pin Tools. 
5pcs Twist Drills. 
1pc Hex Key. 
5pcs Taps.
110pcs Wire Thread Inserts.

Size: 
M5*0.8*6.7mm.
M6*1.0*10.8mm.
M8*1.25*10.8mm.
M10*1.5*13.5mm.
M12*1.75*16.3mm.

Application picture of 131pc thread repair kit (VT01078).