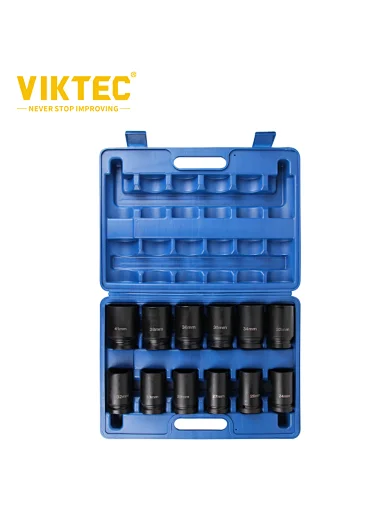 VIKTEC 12pc 3/4" Impact Deep Socket Set
Product Feature
3/4in 6 Pint Impact deep sockets set includes 24/26/27/29/30/32/33/34/35/36/38/42mm, wide usage for most situation.
This Impact Socket Set is forged from high-quality chrome vanadium steel for strength and durability.
Comes with a black phosphate finish for corrosion protection.
Impact sockets for impact wrench application or standard use.
Supplied in a sturdy blow moulded case for storage and ease of transportation.
Content:
3/4'' 6pt. Impact deep socket 24mm
3/4'' 6pt. Impact deep socket 26mm
3/4'' 6pt. Impact deep socket 27mm
3/4'' 6pt. Impact deep socket 29mm
3/4'' 6pt. Impact deep socket 30mm
3/4'' 6pt. Impact deep socket 32mm
3/4'' 6pt. Impact deep socket 33mm
3/4'' 6pt. Impact deep socket 34mm
3/4'' 6pt. Impact deep socket 35mm
3/4'' 6pt. Impact deep socket 36mm
3/4'' 6pt. Impact deep socket 38mm
3/4'' 6pt. Impact deep socket 41mm