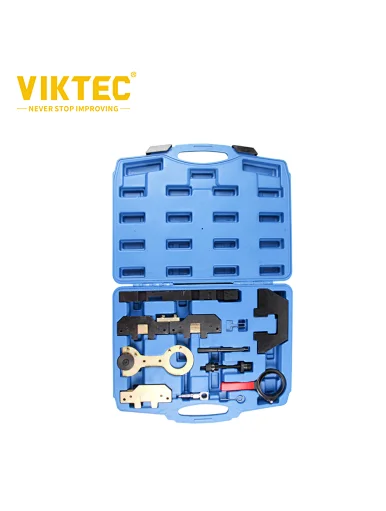 VIKTEC 11pc Engine Timing Tool Kit for BMW Engines
11pc Engine Timing Tool Kit for BMW Engines
For engine codes: M40 M44 M50 M52 M54 M56(engine with double camshafts) .Contains important tools for:dismantling and assembling camshaft. .M40 timing belt change.Valve timing of camshafts.
For models:3 5 7 X3 X5 Z3 Z4 .Type series:E30-31-32-34-36-38-42-46-53-60-61-65-66-83-85
For engine codes: M40 M44 M50 M52 M54 M56(engine with double camshafts).
Contains important tools for:dismantling and assembling camshaft.
M40 timing belt change.Valve timing of camshafts.
For models:3 5 7 X3 X5 Z3 Z4.
Type series:E30-31-32-34-36-38-42-46-53-60-61-65-66-83-85.
Contains important tools:
For camshaft assembling / disassembling, M 40 timing belt change, valve timing of camshafts, crankshaft locking tool, camshaft locking tool, camshaft locking tool, chain pre-tensioning tool, camshaft sprocket turning tool, air adapter, chain tensioner locking pin set ,consisting of locking clip, and locking pin, double vanos locking tool.