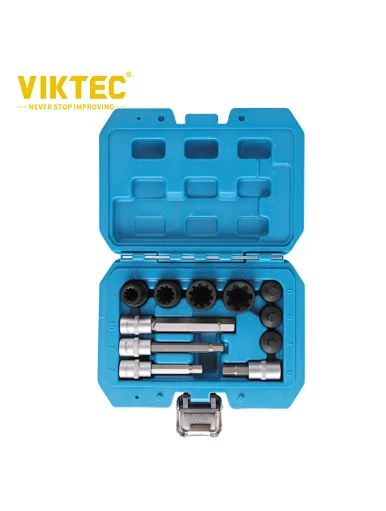 VIKTEC 11PC Brake Caliper Socket and Bit Set for German Vehicles Audi BMW Mercedes-Benz Porsche VW
Product Feature
Used to remove brake caliper bolts when replacing the brake pads.
Manufactured from Chrome Vanadium steel.
Suitable for German vehicles including Audi, VW, BMW, Ford, Mercedes-Benz, Porsche and all German vehicle brake caliper applications.
Content:
1/4"drive bits:        9mm x 20mm
3/8"drive bits:        7mm x 24mm, 8mm x 24mm, 9mm x 50mm, 7mm x 65mm, 7mm x 92mm, 11mm x 100mm
1/2"drive sockets:  11.5mm x 50mm, AS22 x 48mm
Special Socket:        15mm&20mm