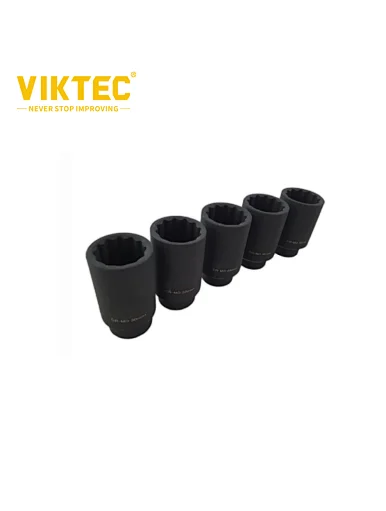 VIKTEC 1/2" Drive Shaft Socket Wrench Set 5pc
1/2" Drive Shaft Socket Wrench Set 5pc
This Drive Shaft Socket Set is forged from high-quality chrome molybdenum steel for strength and durability.
Ideal for heavy duty use in removing and installing axle nuts.
Comes with a black phosphate finish for corrosion protection.
Drive Shaft sockets for impact wrench application or standard use.
Supplied in a sturdy blow moulded case for storage and ease of transportation.
Content:
1/2"Flank impact deep socket 12pt. 30 mm: BMW E36 / E46, Citroen Saxo, Ford Galaxy, Mercedes W123 / W124 / W126 / W129 / W201 / W203 / W211, Opel Astra F / Astra G, Renault Scenic / Clio / Kangoo, Toyota Avensis / Picnic, VW Golf III / Golf IV / Lupo / Touareg / T5
1/2"Flank impact deep socket 12pt. 32 mm: Fiat Punto, Ford Escort / Mondeo, Mercedes W140, Nissan Almera, Opel Astra H / Vivaro, Subaru Outback
1/2"Flank impact deep socket 12pt. 34 mm: GM Motors
1/2"Flank impact deep socket 12pt. 35 mm: Mazda
1/2"Flank impact deep socket 12pt. 36 mm: Audi, BMW E36 / E39 / X5, Ford Transit / Seat Lbiza / Cordoba, Nissan Primera, VW Polo / Golf V / Touareg