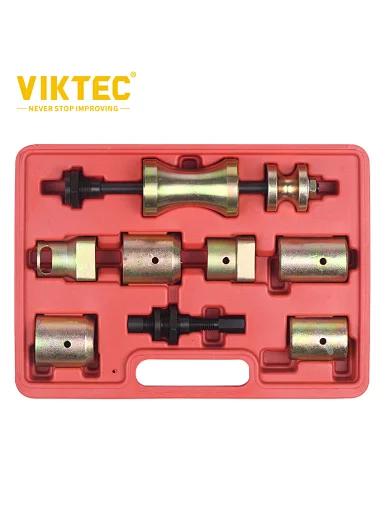 VIKTEC Wiper Arm Puller Set
Product feature
.To remove bolted windscreen wiper arms
.Especially for those which have become rusted or corroded onto the drive-shaft
.Stubborn and deep-seated wiper arms may be quickly and easily removed.
.Wiper arms with integrated screen-wash nozzles, e.g.VW-Audi, BMW etc. on the rear window-can be easily removed by using the slide hammer included in the set.
.Wiper arms with central holes may be removed by using the pressure spindle.
.Those wiper arms with no central hole require the pressure bolt to be used with the pressure adapter supplied.
Specifications:
Wiper Arm Puller Set x1
Viktec offers a high-quality Wiper Arm Puller Set(VT01555). All our tools have at least a one-year quality guarantee. If you need more information about our Wiper Arm Puller Set(VT01555), please do not hesitate to e-mail or call us. Your inquiry will be replied to within 24 hours.