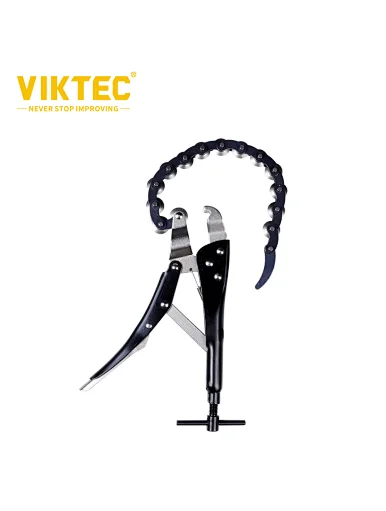 VIKTEC Universal Tail Pipe Cutter Exhaust Pipe Cutting Wrench
Product Feature
Exhaust and Tailpipe Cutter
19mm diameter Cutters to Eliminate Bottoming Out
Cuts Thin and Thick-Walled Pipe from 3/4 inch to 3.25 inch / 19mm to 83mm Diameter
Gets Into Tight Spots for Easy Cutting
Only 1/4 Turn for Complete Cut
Cutting Wheels on Every Pivot for Smooth Tracking
1) Plier head is made of chromium vanadium alloy steel.
2) Chain locking design. Chain's length (30cm) can be adjustable. Easy to adjust the clamping size.
3) Riveting process. Not easy to loose and become deformed.
4) The electroplating treatment surface of plier body. Rust-proof and beautiful.
5) There is a screw on the tail part. Can be slightly adjustable.