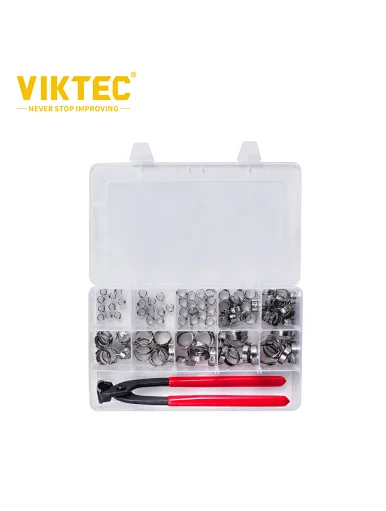 VIKTEC Stainless Steel Clamp PEX Cinch Kit
Product Feature
Used with Stainless Steel Clamps to make PEX connections.
This tool is universal and will work with Stainless Steel Clamps of sizes 3/8, 1/2, 5/8, 3/4 and 1-inch.
This tool can be used with any ASTM F2098 stainless steel clamps from any manufacturer.
This tool is factory adjusted and it will come with one calibration tool.
1 Cinch Tool
1 Calibration Gauge
10PC 286 clamp;
10PC 256 clamp;
10PC 235 clamp;
10PC 210 clamp;
10PC 185 clamp;
15PC 153 clamp;
15PC 128 clamp;
15PC 105 clamp;
10PC 87 clamp;
10PC 70 clamp.