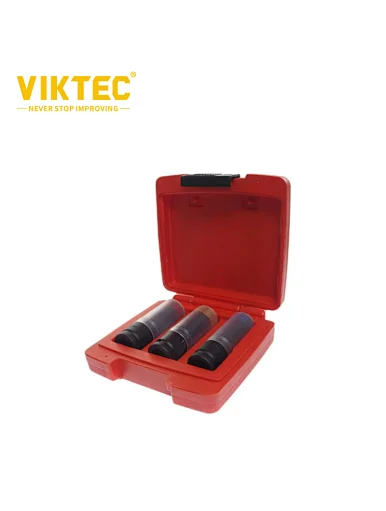 VIKTEC Pre-stressing RIM Protective Wheel Socket Set 17mm 19mm 22mm
Product Feature
Expert Quality, set of three 6 point Draper Expert HI-TORQ° socket sizes 17, 19, and 22mm.
Manufactured from chrome molybdenum.
Fitted with internal and external nylon sleeves preventing damage to wheels and nuts when in use.
Supplied in a handy case.
The pre-stressing rim protective wheel socket set is designed to add one aluminum loop on the socket for higher torque strength and higher socket life by 3 times.
Use different color loops to distinguish the specification.
Clear PVC socket sleeve to protect the rims and removable when space is limited.
Contents:
17mm; PVC sleeve diameter: 26mm; socket diameter: 24mm; color: blue; length: 85mm.
19mm; PVC sleeve diameter: 28mm; socket diameter: 26mm; color: yellow; length: 85mm.
22mm; PVC sleeve diameter: 31mm; socket diameter: 29mm; color: green; length: 85mm.
Total: 3 pieces (17 mm, 19 mm, 22 mm).