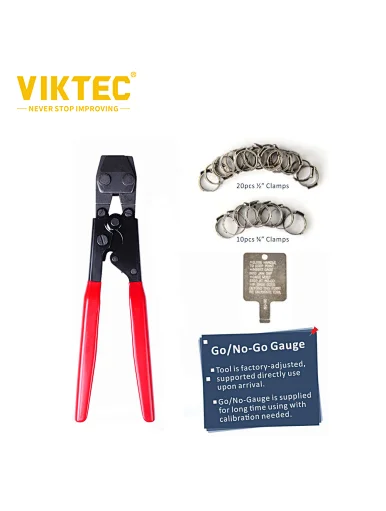 VIKTEC PEX Pipe SS Clamp Cinch Tool Kit for 3/8-inch to 1-inch
Product Feature
Used with Stainless Steel Clamps to make PEX connections.
This tool is universal and will work with Stainless Steel Clamps of sizes 3/8, 1/2, 5/8, 3/4 and 1-inch.
This tool can be used with any ASTM F2098 stainless steel clamps from any manufacturer.
This tool is factory adjusted and it will come with one calibration tool.
Kit includes
1 Cinch Tool
1 Calibration Gauge
20 PCS 1/2-inch Stainless Steel Clamps
10 PCS 3/4-inch Stainless Steel Clamps