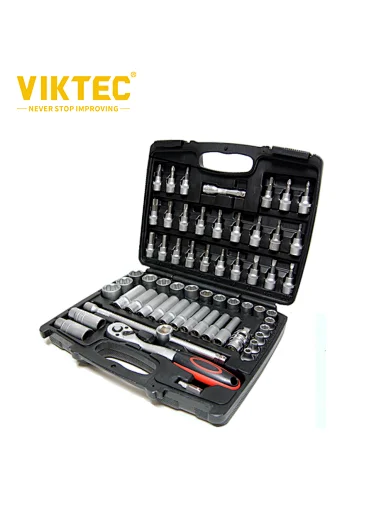 VIKTEC 61PC Heavy Duty 3/8 Inch Socket Combination Set
Product Feature
Professional Heavy Duty 3/8" 61pc Quality Socket Set made from Chrome Vanadium Steel.
SuperLock (surface drive) sockets enable the torque to be applied completely on the wall of bolt instead of corner. Against the slippage on nut or bolt head for more torque eficiency.
Content:
3/8"Surface drive socket 6-7-8-9-10-11-12-13-14-15-16-17-18-19-20-21-22-24mm
3/8"Surface drive deep socket 8-9-10-11-12-13-14-15-17-19mm
3/8"Socket bit Phillips PH.1-PH.2-PH.3
3/8"Socket bit Pozidriv PZ.1-PZ.2-PZ.3
3/8"Socket bit Slotted 5.5-7-8mm
3/8"Socket bit Star T15-T20-T25-T27-T30-T40-T45-T50-T55
3/8"Socket bit Hex 3-4-5-6-7-8-10mm
3/8"Ratchet handle 72 teeth Quick release
3/8'' Extension bar 75-250mm
3/8'' Spark plug socket 16-21mm
3/8'' Universal joint
Adaptor 1/2"x 3/8"