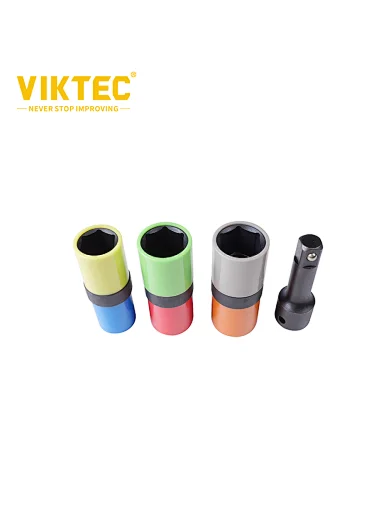 VIKTEC 4PC Twist Socket Set
Product Feature
17×19mm
21×22mm
23mm × 7/8" (for Tesla)
1/2" Square Drive Adaptor
A double ended wheel nut socket that features a spring-loaded insert at each end enabling it to accommodate two  different sized wheel nuts in total; 17, 19, 21,  22, 23mm and 7/8"special socket for Tesla.
This innovative space saving design cuts down on the amount of tools needed to be carried and is ideal for use as part of a vehicles tool kit, or for where storage space is limited.

Two sizes in one socket: 17 × 19, 21 ×  22, 7/8"× 23mm.
Includes a 1/2inch Drive 3inch extension bar for use with the double-ended socket.
With 6 different sizes, this wheel nut socket provides both space and weight savings, making it the ideal tool for emergency tool kits.
Manufactured from chrome vanadium with satin finish.