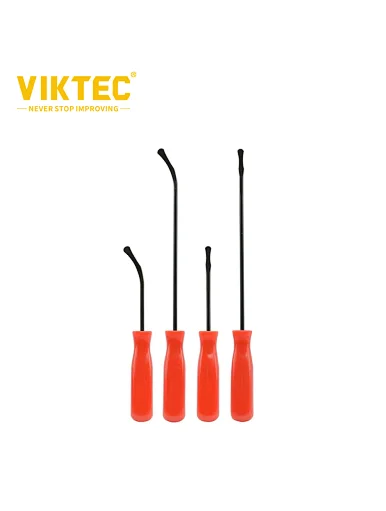 VIKTEC 4PC Small Oil Seal Hook(Spoon Type)
Product Feature
The O-ring and seal pick set comes with 4 spoon-type removers that prevents damage to the o-rings and seals.
Contents: curved pick, 90 degree pick, offset pick, and straight pick.
O-RING PICK SET: The rounded tips with blended edges come in handy for easy removal of seals and O-rings without damage to seals or surfaces in automotive or home repair.
CURVED PICK TOOLS: The curved ends make it ideal to access hard-to-reach places when removing O-rings or pulling seals.
AUTOMOTIVE PICK SET: Remove without worrying about damaging the surface of your car or vehicle or damaging your seals.
HEAVY DUTY TOOLS: With an acetate handle that provides a firm grip, you can be assured that these removers will be impact resistant to damage.
INCLUDING?: This O-ring remover tool set comes with two spoon tips and two contoured tips with an industrial black finish for added durability.