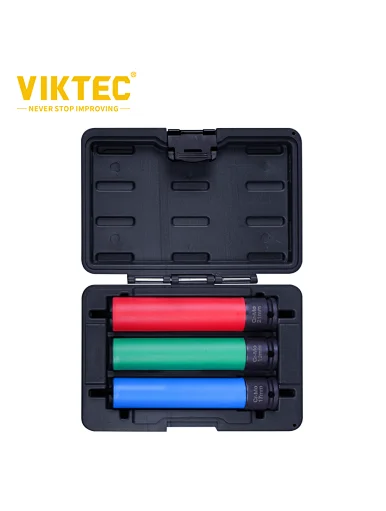 VIKTEC 3PC 1/2" Drive 17mm 19mm 21mm Alloy Wheel Nut/Bolt Socket Set Extra Deep
Product Feature
Perfect for cars with extended or deeply recessed wheel studs.
Each of the 3 sockets, measuring 17mm, 19mm, and 21mm, are 150mm in length (5.9-inches) and are 1/2-inch drive.
Alloy wheel nut socket set with color-coded nylon sleeves 1/2"D x 17, 19, 21mm x 150mm long
3 extra long (150mm) wheel nut sockets.
1/2"D.
Sizes 17mm, 19mm, 21mm with protective nylon sleeve, color-coded.
Thin-walled, impact sockets made from Chrome Molybdenum for strength.
Consumable.