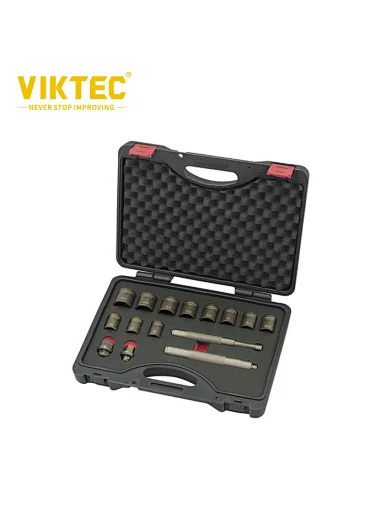 VIKTEC 15PC Universal Locking Wheel Nut Removal Kit Removes The Spinning Nuts
Product Feature
Included sockets (outer diameter): 26, 17, 28, 28.8 ,28.9, 30.0, 30.9, 31.8, 34.8, 35.8, 36.8.
Universal locking wheel nut removal kit removes the spinning nuts..

The sockets are tapered which when hammered on to the nut grips on to it which in turn allows the nut to be removed by using a breaker bar.

Included sockets (outer diameter) 26,17,28,28.8,28.9,30.0,30.9,31.8,34.8,35.8,36.8

A variety of OEM and after-market manufacturers supply locking wheel nut with a spinning collar for extra security-many other products on the market similar to this design will take the nut off but because of the design its is impossible to remove the collar with the removal punch.
This design uses a removable adapter which allows the collar to be removed; this means the socket can be used multiple times.