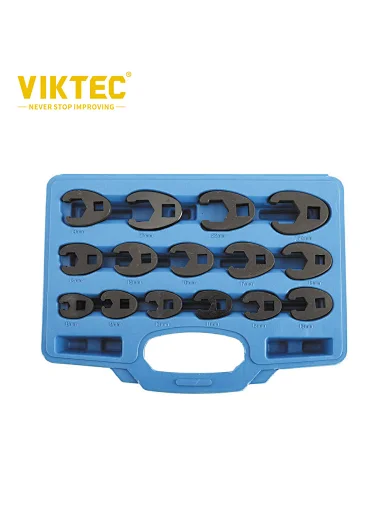 VIKTEC 15PC 3/8" Dr. Professional Metric Crowfoot Wrench Set
Product feature
Extend The Reach of Your Wrenches
The 15-piece Metric Crowfoot Wrench Set is designed for reaching metric fasteners in inaccessible spaces.
Sometimes known as crowfoot adapters or flare nut wrenches, these specialty wrenches are open-ended discs, slipping easily over hex-sided fasteners. Once in place, your existing ratchet, extender, or torque wrench is attached to the crowfoot drive hole to drive fasteners. Wrenches in the set are made from extremely durable Chromium-Molybdenum alloy steel, appear in common metric sizes from 8 mm to 24 mm, and are universally compatible with either 3/8-inch or 1/2-inch drive head tools.
3/8"DR. 15PCS Professional Metric Crowfoot Wrench Set
[PROFESSIONAL QUALITY]: Includes 15 large-sized metric crowfoot flare nut wrenches for use with 3/8"and 1/2"drive ratchet, extension, or torque wrench.
[HEAVY DUTY]: Made of industrial grade, heat-treated, Material is 40CR that won't easily break.
[PERFECT FOR MECHANICS]: Fits into confined and restricted spaces and hard-to-reach spots where a regular wrench or socket won't reach.
[HARD CASE]: Blow mold case for convenient storage, with all sizes clearly marked on the box and be careful to put each size back in the correct place.
[CONVENIENT SIZES]: Set includes: precision crafted 8mm, 9mm, 10mm, 11mm, 12mm, 13mm, 14mm, 15mm, 16mm, 17mm, 18mm, and 19mm for a 3/8-inch drive, and 21mm, 22mm, and 24mm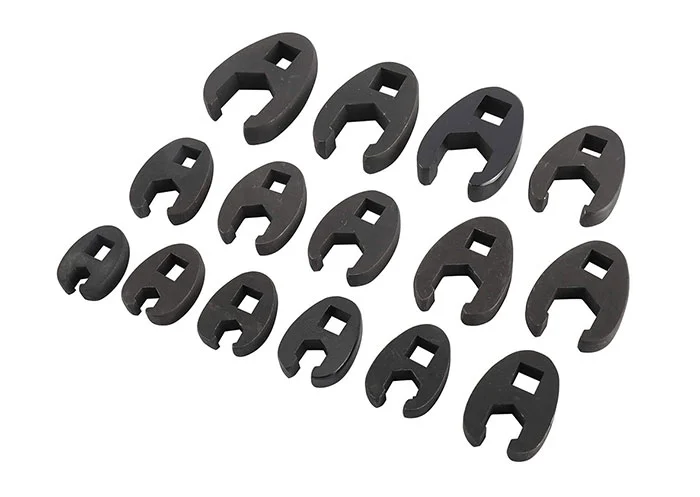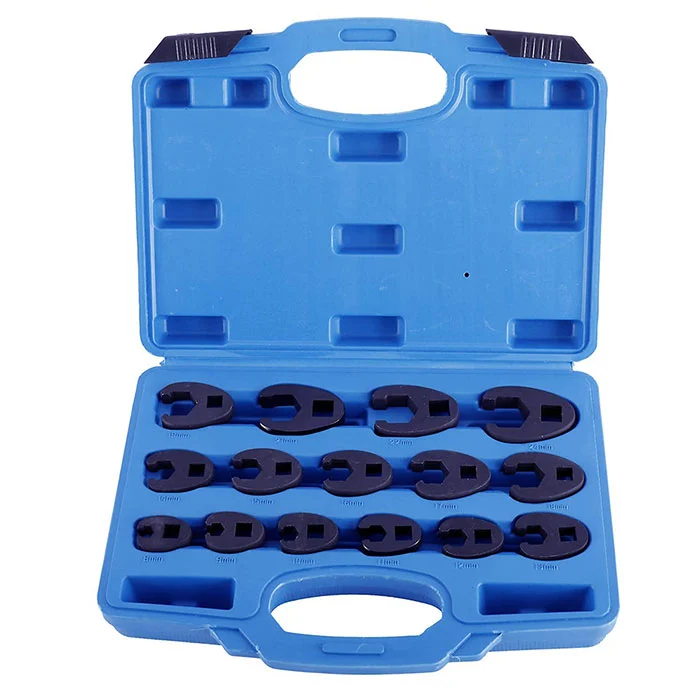 Viktec offers a high-quality 15PC 3/8"Dr. Professional Metric Crowfoot Wrench Set(VT14069). All our tools have at least a one-year quality guarantee. If you need more information about our 15PC 3/8"Dr. Professional Metric Crowfoot Wrench Set(VT14069), please do not hesitate to e-mail or call us. Your inquiry will be replied to within 24 hours.