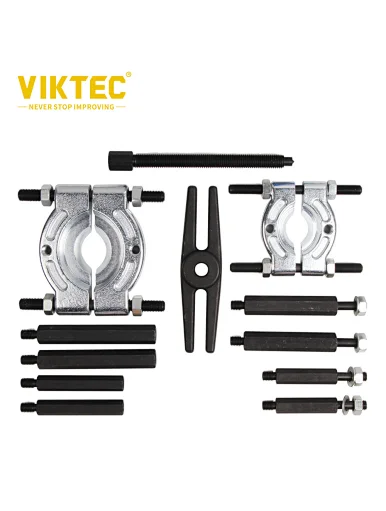 VIKTEC 12PC Double Mechanical Bearing Separator and Puller Set
Mechanical puller set with Ø30-50mm and Ø50-75mm separators and single yoke with 180mm thrust bolt.
Suitable for engineering, automotive, marine and agricultural applications.
Supplied in blow mould case.
Featuring drop-forged construction, the bearing separator and puller set come with two of the most widely used 2"and 3"bearing splitters. Along with pulling components to safely remove bearings.
The set also includes a bar-type puller head with a 9/16"forcing screw. Four sets of hex push-puller legs 4"and 5"extension legs 6"yoke with center adapter Bar-type puller head with 9/16"forcing screw. 
Contents: Separators; Ø30-50mm, Ø50-75mm, Thrust bolt 180mm, Extension bars; 4 * 130, 4 * 105mm, Cross beam 160mm.
Separator size: Ø30-50mm, Ø50-75mm.
Maximum reach: 170mm, 220mm.
 Related Products: