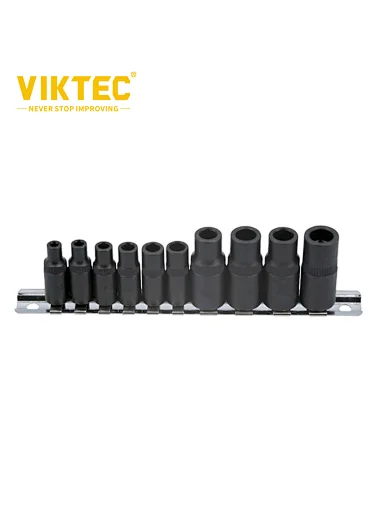 VIKTEC 10PC Tap Socket Set 1/4 Inch and 3/8 Inch Drive (Magnetic)
Product Feature
A tap socket set combining 1/4"Dr & 3/8"D sockets, for driving thread cutting taps from M1.5 to M14.
Sockets have a special square profile to fit the tap shanks, magnets achieve better holding force.
For use with 3/8"Dr & 1/4"D ratchets, ideal for restricted access where a T handle tap holder will not reach.
Product Feature:
A tap socket set combining 1/4"Dr & 3/8"D sockets, for driving thread cutting taps from M1.5 to M14.
Sockets have a special square profile to fit the tap shanks, magnets achieve better holding force.
For use with 3/8"Dr and 1/4"Dr ratchets, ideal for restricted access where a T handle tap holder will not reach.
Contents:
6pcs 1/4"drive magnetic sockets(length:32mm)- socket number to square size: #1 (2.8mm), #2 (3.4mm), #3 (4mm), #3.5 (4.5mm),
#4 (4.6mm), #4.5 (5.4mm);
4pcs 3/8"drive magnetic sockets(length:40mm)- socket number to square size: #5 (6.4mm), #6 (7.3mm), #7 (7mm), #8 (8.4mm)