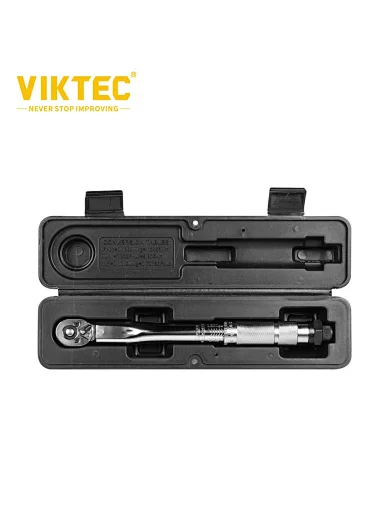 VIKTEC 1/4" Torque Wrench 2-24Nm Square Drive Quick Release Bicycle Repair Spanner
Product Feature
Easy to use torque wrench essential for precision work, this universal, easy to use torque wrench is ideal for many everyday applications.
The click-type operation and micrometer adjustment allow the user to apply the correct tension when required, providing easy and accurate use.
The torque value range is 2-24Nm and delivered with an accuracy spread of ±3%.
Each torque wrench is supplied in a sturdy and robust blow mold case for safekeeping.
Every bolt on modern vehicles has a torque setting, and a torque wrench is essential to accurately judge how tight a bolt is.
Manufactured from chrome vanadium steel for strength and durability.
Smooth action mechanism providing accurate torque settings every time.
Fully adjustable torque wrench with ratchet head which when set ensures proper tension and loading settings are applied to nuts and bolts.
Knurled handle for comfort and grip when using this application.
When the required torque setting is reached the wrench produces an audible click and a slight release of tension.
Clockwise torque only but can also be used to undo by the switch of a lever on the ratchet head.
1/4"Drive
Torque range (fully adjustable) 2 ~ 24Nm
Comes with certification of calibration