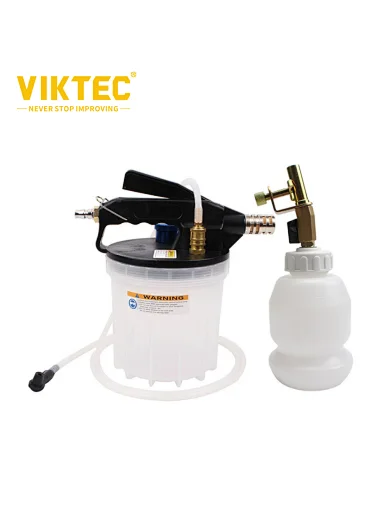 VIKTEC Pneumatic Vacuum Brake Bleeder Air Brake Fluid Bleeding Kit 2L+1L Capacity Refilling Bottle
VT01294R VT01294R1 VT01294R2 VT01294R3
Product Feature
Oil gas separation: Air discharge, oil and gas separation, rapid evacuation.
Metal intake valve, long service life.
Accurate calibration of the pot body makes pumping more convenient.
Oil drain: easy to use, no need to open the cover.
High-quality aluminum muffler: Durable and strong, longer service life.
Package List
1 x 2L Vacuum Brake bleeder 
1 x 1L Refilling Bottle.
1 x Silicon bleeding hose
1 x Silicon  hose with Extension thinner corrosion-resistant tube
1x Instruction
Specifications:
Material: PP plastic
Capacity: 2000ml
Hose length: 1.8m
Product size: 26*16*26.5cm
Net weight: 1.5kg
Advantages:16 kinds of connectors, 4 kinds of hose, suitable for 99% conditions, more convenient to use
Easy to Bleed the Brake Oil
1. Wipe the brake master cylinder clean with a shop rag and remove the cap
    Put the hose with an extension thinner corrosion-resistant tube into the reservoir to extract all the old brake fluid from the master cylinder.
2. Fill the refilling bottle with the new brake fluid, and then fix it on the master cylinder reservoir to add the new brake fluid up to the MAX mark.
    Notice: Keep the reservoir filled all the time to prevent forming a vacuum during the procedure.
3. Clean the bleeder screw to prevent oil or grease from entering and blocking the bleeding tube.
    Ready your vacuum pump by putting the universal rubber adapter on the brake nipple to connect the bleeder kit with the caliper.
    Choose the correct line wrench size to turn the bleeder screw open.
4. Connect the bleeder kit to the air compressor.
    Press the trigger to start bleeding. Keep bleeding until the fluid is coming out clean.
    Then tighten the bleeder screw, remove the rubber adapter, and put the dust cap back on.