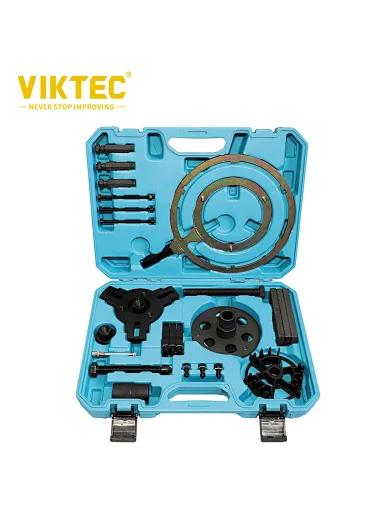 VIKTEC Dual Clutch Transmission DSG Remover Installer Tool Kit Compatible With Ford DPS6 Dual Clutch Reinstall Reset Tool
Product Feature
Special designed to removal install and reinstall reset DPS6 dry dual clutch transmission.
Made of high quality steel apart from one plastic part , not easy break.
Instruction:
Step 1: Insert the locked double clutch, put it into the mounting sleeve, install the extension feet on three sides to fix the proper holes, and fix the extension feet. Unscrew the screw and observe whether it is in place. When in place, remove the tool and install the retaining ring.
Step 2: Remove the motor on both sides, use the hexagonal tool to insert the motor teeth, and rotate it counterclockwise to the end (there is a popping sound when rotating, and the double clutch slightly pops up). Turn the other side counterclockwise again. Finally install the motor. At this point, the dual clutch has been unlocked and can be loaded.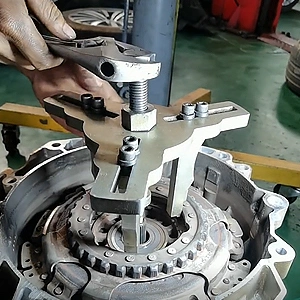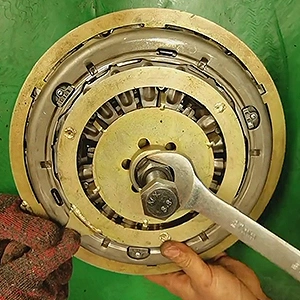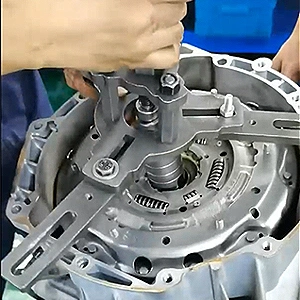 Removal Dual Clutch
Disassemble the double clutch fixing snap ring, install the three claws and pull out the double clutch.
Reinstall Reset Dual Clutch
Resprings/re-trips the springs on the clutch so that you can reinstall it again.
Install Dual Clutch
The transport fastener must be put back in place if the double clutch is used again after disassembly.
All the tools put in a plastic case, easy to carry and storage.
For Ford 1.4 1.6 1.8 2.0 Di/TDCi/TDDi ESCOBOOST 1.6 Ti-VCT 1.5/1.6 VVT Timing Compatible with Ford 2.0 Ecoblue TDCi Engine Timing Tool Timing Tool for Ford 1.0 ECOBOOST Fuel Filter Air Bleeder Service Kit for Ford 6.4L Timing Tool for Ford Land Rover 4.0L Camshaft Positioning Timing Tool for Ford 4.6L 5.4L 6.8L
Removal Install Dual Clutch: Special designed to disassembly and install dry transmission. Disassemble the double clutch fixing snap ring, install and remove the three claws, turn the threaded bar 20 turns after it makes contact with the input shaft and pull out the double clutch
Reinstall Reset Dual Clutch: this tool could resprings/re-trips the springs on the clutch so that you can Disassembly lock and installing an unlock
FM number: 307675

Applicable:compatible with ford dual clutch transmission DPS6. vehicle include: Fiesta 2011-2019; Focus 2012-2018; Transit Connect 2019; B-MAX since 2012.

Related Products: