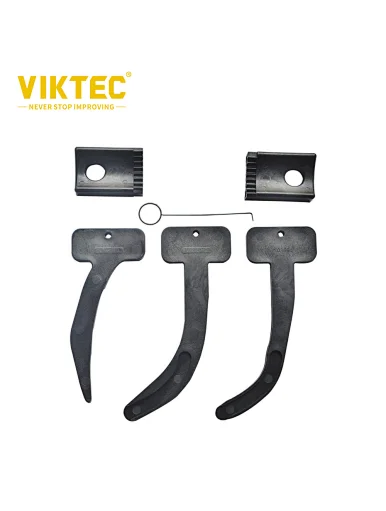 VIKTEC Camshaft Phaser Timing Chain Lock Tool Kit Set for VW Chrysler Jeep Dodge 3.6L Engine Replace 10200A 10202A 10369A
Product Feature
10200A-Used as wedges to loosen the tension on the Timing Chains during Camshaft and Phaser service procedures on Routan 3.6 liter Engine.
10202- Used to hold the Camshaft/Phaser`s while performing the loosening and tightening of the Oil Control Valves during survice on Routan with 3.6 liter Engine
Note: 10200-1 & 10200-3 are used on Drivers Side, 10200-2 is used on Passenger's Side.
2012 and newer models also require 10369A.
Some 2011 models may also require 10369A, depending on the size of bolt in the front cover tightening sequence on the right bank (cylinder head closest to firewall). If that bolt head is 13MM you need 10369A.
Note: 10202-1 is used on Right Bank 10202-2 is used on Left Bank 10202- Used to hold the Camshaft/Phaser`s while performing the loosening and tightening of the Oil Control Valves during survice on Routan with 3.6 liter Engine. Note: 10200-1 & 10200-3 are used on Drivers Side, 10200-2 is used on Passenger's Side. 10200A-Used as wedges to loosen the tension on the Timing Chains during Camshaft and Phaser service procedures on Routan 3.6 liter Engine. 2012 and newer models also require 10369A. Some 2011 models may also require 10369A, depending on the size of bolt in the front cover tightening sequence on the right bank (cylinder head closest to firewall). If that bolt head is 13MM you need 10369A. Application: 2011 (Journey, 200, 200 Convertible, Avenger, Sebring, Sebring Convertible, Challenger, Charger, 300, 300C, Charger, Magnum, Grand Caravan, Caravan, Town & Country, Durango, Grand Cherokee) - Systems (9 - Engine, 3.6L) 2012 (Journey, Wrangler, 200, 200 Convertible, Avenger, Sebring, Sebring Convertible, Challenger, Charger, 300, 300C, Charger, Magnum, Grand Caravan, Caravan, Town & Country, Durango, Grand Cherokee) - Systems (9 - Engine, 3.6L) 2013 (Ram Truck 1500, Journey, JF, Wrangler, 200, 200 Convertible, Avenger, Sebring, Sebring Convertible, Challenger, Charger, 300, 300C, Charger, Magnum, Grand Caravan, Caravan, Town & Country, Durango, Grand Cherokee) - Systems (9 - Engine, 3.6L) 2014 (Ram Truck 1500, Journey, JF, Wrangler, 200, 200 Convertible, Avenger, Sebring, Sebring Convertible, KL, Challenger, Charger, 300, 300C, Charger, Magnum, Grand Caravan, Caravan, Town & Country, VF, Durango, Grand Cherokee) - Systems (9 - Engine, 3.0L Gasoline, 9 - Engine, 3.2L, 9 - Engine, 3.6L) Package Included: -- 6pcs/set Camshaft Phaser Timing Chain Tools
Related Products: